The 2019-20 School Year Calendar was approved by the School Board on March 13, 2019. Copies are available either thru the Parent or Student Resources links of the main menu on the district website or directly with this link
https://5il.co/6xi7
The Siuslaw School District Board of Directors is seeking people interested in filling the vacancy for Board Position #3. This term expires June 30, 2019. The application & details can be found at
http://bit.ly/2TCLxic
or under 'school board' on the district website.
The Facility Advisory Committee is seeking general community input on all educational facilities and opportunities in the Florence area. The survey link is available here
http://bit.ly/Fac_Com_Survey
3/8 - No Delays, Buses on Regular Routes - Some chance of slick spots on roadways, please take care on your morning travels.

For educators and school or community volunteers, the Masons are sponsoring the Masonic Model Student Assistance Program training April 12th & 13th at Siuslaw Middle School. For registration details and more, link here
https://5il.co/6tv1

Informational Posting - The Joint Committee on Ways and Means is holding a public hearing this Saturday (March 9th) in Coos Bay at the Marshfield High School Auditorium from 1-3pm.
The 2019-2020 School Year Calendar draft and survey is up through March 7th on the district website. It is the first item under the menu tab, or use the link
http://bit.ly/Calendar_info
directly. Thank you.
2/28 - 7:15pm – No anticipated weather delays for school or bus route changes for Friday, March 1st. Any emergency changes will be communicated by automated call, website and social media in the morning. Have a good night!

2/28 - No delays & all buses on regular routes. Watch out for trouble spots in localized areas as the temperature dips right before sunrise.
2/27 - Regular Start Time - Transpo office will call homes if routes outside county maintenance need to be modified. Take it slow & safe on your morning travel!
2/26 - Regular start time today, buses on normal routes.

2/25 - Afternoon roads are clear for Bus 2 and Bus 5 to complete their out-of-town routes today. No changes to any other buses or routes this afternoon. Thank you.
No Middle School Girls Basketball travel to Coquille today. Road conditions coming home look dangerous.
2/25 - Late update from transportation - Bus 5 (Tan) - can only travel as far as Portage and will be calling families impacted by travel restriction. If localized conditions make it unsafe to travel, please call into your school office.
2/25 - No Bus 2 going out of town (east) on HWY 126. Those students will be excused due to the localized weather and road conditions. All schools are opening on time. Please stay safe on your travels on the roads going east!
No Delay 2/21 - All buses are running on schedule for a regular school start. There is a potential for slick spots on side roads and shady areas, so be careful on your drive in to town. Thank you to the ODOT crews for helping to keep all of us safe on the roads.

The first draft of the 2019-20 School Year calendar is up on the district website. It is the first page link under the menu and includes an optional survey, with commentary. Next action by the School Board will be March 13th.

February 6th - Regular schedules & start times for all schools today, no weather delays for busses. With some possible 'slick spots' remaining from yesterday off of the main roads, stay safe on your morning drive.

2 Hour Late Start for February 5, 2019 - Early morning icy roads, busses will be on regular routes. Please take it slow and be safe!
Special 'thank you' to City of Florence Public Works, Lane County Public Works, CLPUD & ODOT for helping to make travel to school as safe as possible today. Plenty of people in fluorescent yellow & orange out early braving the rain and wind!
1030am late start-transpo office will call homes impacted by road closures in outlying areas by debris or downed power lines, please stay safe
1030am late start - Transpo office will be calling areas impacted by road closures due to debris or down power lines in outlying areas.

2 Hour Late Start for Tuesday 12/18/18 - The wind overnight has left debris on the roadways that the work crews are clearing now. Parents if it is unsafe to travel at your home, please err on the side of caution and keep your children at home.

For Parents & Guardians that did not have time to complete the ODE survey on Chronic Absenteeism during conferences, the survey link will be open on the district website main page under the menu as 'Conference Attendance Survey Link' thru the end of the month. Thanks!
The CTE construction class at Siuslaw High School is selling Adirondack chairs. Contact Clint Tatum at 541-902-7436 or
ctatum@siuslaw.k12.or.us
to order yours.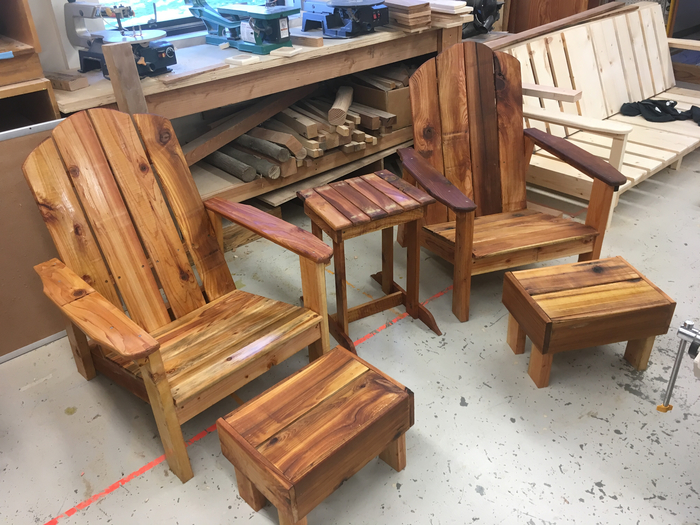 About 35 minutes to kick off! See you at the field. Go VIKS

Reminder - There are no Early Release Fridays this school year. The school day ends at regular time on Fridays; the Elementary school at 2:50pm, Middle & High Schools at 3:10pm. Thank you!

A little foggy out, but a great day to start the 2018-19 school year! Grades 1-12 officially start today.

All students can receive both free breakfast & lunch during the month of September. Please see the NEWS feed or the building Facebook page for full details.

Twitter is one more way to keep up with announcements across the district. Please make sure to follow @SesVikings for the elementary school, @SiuslawMS for the middle school, @SiuslawHSViking for the high school & @Siuslaw97J for district wide messages! Thank you!

All registration details for each building are on the website at
www.siuslaw.k12.or.us
- the updated website is designed for mobile devices, so make sure to download the app today!

New website will convert in late July... Please stay tuned!

Also, be sure to check out our new Android and iOS apps!

Welcome to our new website!