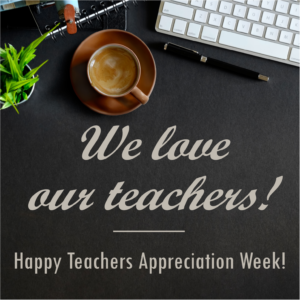 Teacher appreciation week image
Mike Harklerode
Monday, May 06, 2019
May 5-11 is Teacher Appreciation Week!
We in the Siuslaw Schools use this time honor ALL school staff during this week.

SES is a great place to be a kid because of the grown-ups we have on staff. Our students work with a number of adults every day at our schools. Most of our students will meet bus drivers, playground monitors, office staff, kitchen staff, custodians, or small group instructors even before they even enter a classroom. Once the school day begins, they are all in a safe and caring environment with highly trained and committed teaches. It is here they can be motivated to reach their greatest potential.
We are proud to work with such a dedicated and professional group!