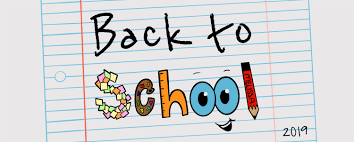 Back-to-School Start Dates Message
Mike Harklerode
Thursday, August 29, 2019
Below is the text from the 8/30 School Messenger phone call about Start Dates:

Good afternoon Siuslaw Families:
This is Elementary school Principal Mike Harklerode calling to highlight a few important upcoming dates across the district.
Tuesday September3rd is the new family orientation at the Elementary School. All new families are invited into the school from 11-noon to become familiar with school facilities, staff and procedures.
Tuesday is also the orientation day for 6th graders at Siuslaw Middle School and for 9th graders at Siuslaw High School. 6th and 9th students report for a full school day on Tuesday.
On Tuesday evening, Siuslaw Elementary is hosting the back to school BBQ from 5:00-7:00 for ALL SES families.
The first day of school for students in 1st-12th Grades is on Wednesday, September 4th.
Kindergarten students begin Thursday, September 5th.
Have a wonderful Labor Day Weekend and we'll see you all next week.
The text of this call is also available on the Siuslaw School District website.
Thank you,
Mr. H